Movies Reviews
Galina and Andrei Pachin: Where Are the Figure Skating Coaches Now?
If there's one thing absolutely nobody can deny, it's that Netflix's 'Harley & Katya' lives up to its title in every way conceivable to really give us an insight into this once-notable figure skating pair. After all, it comprises not just archival audio-video footage but also exclusive interviews to chronicle the way they began in a promising manner but came to a devastating end mere years later. Amongst those to thus be mentioned in this original to help move the narrative along were actually coaches Galina and Andrei Pachin — so now, let's simply find out more about them, shall we?
Who Are Galina and Andrei Pachin?
It was reportedly back around the mid-1990s when former professional pair figure skaters/couple Galina and Andrei left their homeland of Russia for good, only to soon settle down in Australia. The truth is they had one austere goal — to build a new life for themselves well away from the Soviet Union while still following their passion for skating, which they indeed managed to do. In fact, the duo rather quickly evolved into volunteer turned vocational full-time trainers, wherein the former primarily served as a choreographer while the latter took on the role of an overall coach.
Galina and Andrei have hence taken several talented, skilled, as well as ambitious individuals under their wings over the years, one of whom was New South Wales' Harley Windsor in late 2006. "When I first time saw him skating, he was with another coach, and I straight away picked him on the ice as a really good potential little boy," the former once said. "… He's not scared, and you can see he's really enjoying the ice and doing what he's doing… I thought 'this boy is really good, I wish I could teach him'. And one day his mum called me and approached me and asked if I would like to take Harley over. And I was like 'yesss, of course I would!'"
Galina and her husband Andrei had actually admittedly been trying to establish a good pairs team out of Australia for years, but it wasn't until Harley came along that they felt this could be a reality. Therefore, they soon began trying to find him a small enough as well as brave enough partner, just for it to take them all the way to Moscow, Russia, for Ekaterina "Katya" Dmitriyevna Alexandrovskaya. "We can see the potential there," Galina had expressed back then, making it clear there was a sort of magic between these two from the moment they first stepped onto the ice rink together.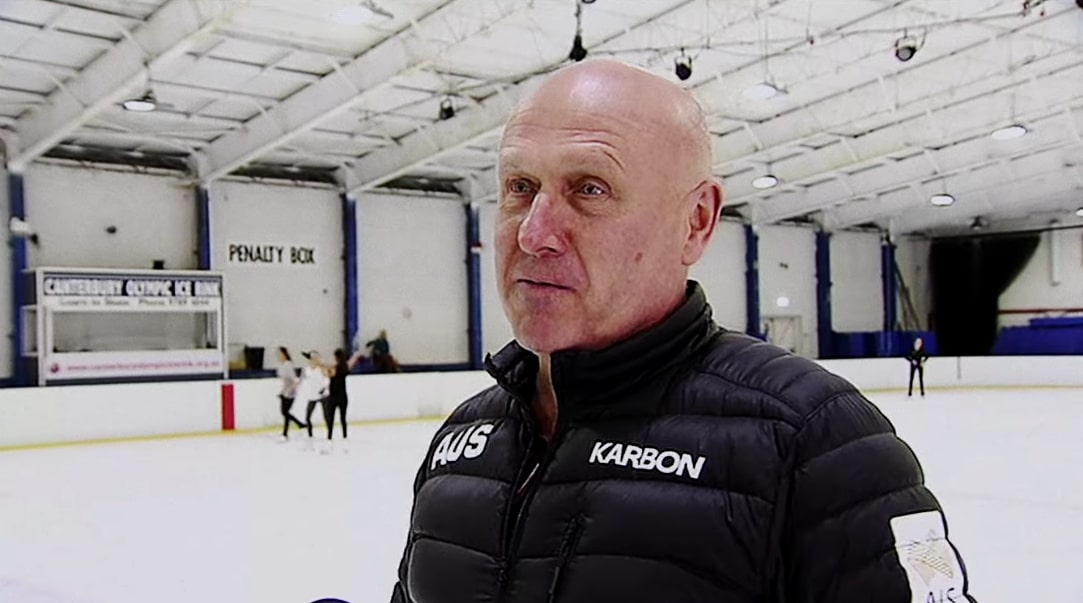 However, everything began turning upside down following the 2018 Winter Olympics as Katya made it known to her incredible long-term partner she wished to part ways with the Pachin duo. According to the film, she believed Andrei was aggressive in his coaching style, plus he apparently used to say nasty things in their mother tongue if she ever made even the slightest of mistakes. It's also imperative to note this Russian couple had been housing Katya when she first came to Australia, only to suddenly kick her out for alcohol use a few years later, leading them to a point of no return.
Where Are Galina and Andrei Pachin Now?
Although neither Galina nor Andrei participated in the original documentary to share their side of the story, they did make a statement through their lawyers indicating no wrongdoing on their part. The pair essentially claimed Katya could wear protective gear during training sessions if she desired — it was her decision alone — before clarifying they did ask her to leave their home following alcohol misuse, yet helped her find an alternative place to stay too. Moreover, they denied Andrei's coaching style was aggressive, adding, "Mr. Pachin (who has a loud voice) denies he yelled at Katya or said nasty things to her as part of her training or at all."
We should also mention that once news of Katya's unfortunate demise came to light in July 2020, Galina took to Facebook to express, "Our hearts are broken to hear of Katia's passing. She was a talented, driven, and ambitious young lady. On the ice, her determination and strength of character were obvious. She was a worthy role model to the younger skaters aspiring to achieve what she had achieved."
This still Sydney-based choreographer plus wife of lead coach continued, "But more importantly, during the time we spent together, Katia became a part of our family. Not just the skating family, but our family. And although we had parted ways on the ice, Katia remained and will always remain in our hearts. We only hope her heart has found peace."
Read More: Harley Windsor: Where is the Figure Skater Now?