Business
Africa missing from top 10 global music markets in 2022, see the ranking
According to figures released in IFPI's Global Music Report, the biggest region for recorded music in 2022 was the USA and Canada, followed by Europe, with the Middle East and North Africa third.
Surprisingly, the report noted that the fastest-growing region in 2022 was Sub-Saharan Africa, growing by 34.7%, driven by South Africa, which is the region's biggest market.
"Four regions posted double-digit gains, outpacing the overall growth rate of 9.0%, and Sub-Saharan Africa overtook Middle East and North Africa as the fastest growing area," the report noted.
According to the report, Sub-Saharan Africa – becoming the fastest growing region in 2022 was driven largely by a significant revenue boost in the region's largest market, South Africa (+31.4%).
The report also showed that the global recorded music market grew by 9.0% in 2022, driven by growth in paid subscription streaming.
Subscription audio streaming revenues increased by 10.3% to US$12.7 billion, and there were 589 million users of paid subscription accounts at the end of 2022.
Total streaming (including paid subscription and advertising-supported) grew by 11.5% to reach US$17.5 billion, or 67.0% of total global recorded music revenues.
Top 10 music markets in 2022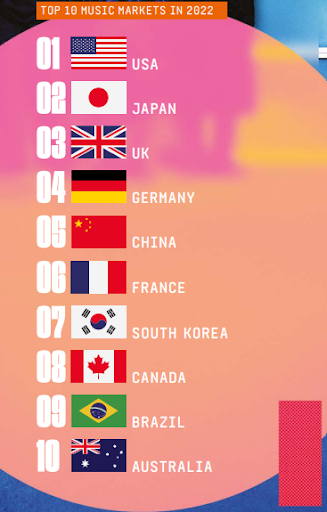 USA
Japan
UK
Germany
China
France
South Korea
Canada
Brazil
Australia